Tourist & Business Visa Requirements
JUSTIN DOCUMENT SERVICE, INC.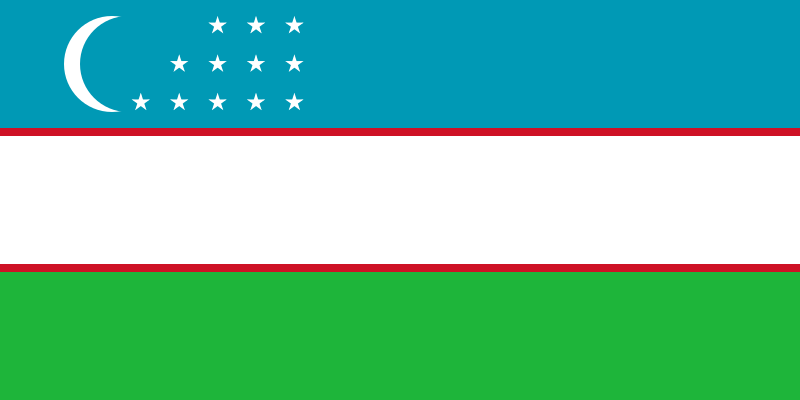 Uzbekistan
Please note this visa requirements are for US citizens only. If you are not a US citizen please contact our office at (914) 592-2760.
US passport must be signed, valid for at least 6 months and with at least 2-3 blank visa pages not amendment pages in passport. If your passport does not meet the requirements, we can assist with obtaining new passport or passport renewal for a valid US passport.
Pre-Check Documents is available. If you choose to not pre check your documents, and JIDS receives your documents with errors, you will be charged for a representative to assist you with corrections.
Concierge Service is available for this country
Consulate closed on Fridays
Passport and Visa are required.

If your stay in Uzbekistan exceeds 3 days, you are required to register with the Ministry of Interior local department within 3 business days after arrival. A registration stamp is placed in your passport.

If you stay in a hotel, the hotel administration will register you automatically.
If you stay in a private apartment or house, you have to register the passport with the Ministry of Internal Affairs` local department in the district where this apartment or house is located.
A fee for registration are paid in soum (national currency of Uzbekistan) in amount equal to $20 or more depending on the length of stay.

Please be advised that your passport is checked upon departure, and failure to register it may result in fines of $20 or more depending on the period of time the passport was without registration.
Valid Signed Passport

Applicant must submit their current signed passport. Applicant must also include a color copy of the information page of the passport.
Note: In order to obtain visas, passport must have at least two blank visa pages side by side. Pages in the passport marked "Amendment" pages are not valid for visas.
JIDS can help you  renew it if you need more validity. If you require passport services, please refer to our passport services section.
One Visa Application Form completed and signed.

All applications must be done online and PRINTED OUT FOR SIGNATURE, no hand written applications will be accepted
Applicant must submit (1) color, passport style 2 x 2 photograph.
The photos must be recent within 6 months, and generally not the same photo as in the passport.
Must have at least 1 blank visa page.
See digital image requirements: Passport Photo Requirements.
Must submit a computer-generated itinerary from a travel agency or online travel site. E-confirmation from an airline or travel company showing departure from the U.S. and arrival/departure to and from your visa destination. Acceptable with a valid record locator.
Justin Document Service – ORDER FORM & copies Mandatory order form, which must be included with your original documents to JIDS.
ORDER FORM then PRINT to include with documents.
COPIES of all documents included in your package to JIDS. If copies are not included then a $10.00 copy fee will be applied.
Give yourself peace of mind!
Simply fill out this form STEP FORM and let JIDS do it for you $20.00.
The Smart Traveler Enrollment Program (STEP) allows U.S. citizens and nationals traveling abroad to enroll their trip with the nearest U.S. Embassy or Consulate. Help the U.S. Embassy contact you in an emergency. Read more…
Cover Letter from the U.S. Company

Invitation Required from host in Uzbekistan- faxed invitation letter from the company or organization in Uzbekistan to the embassy through the Ministry of Foreign Economic Relations.

To obtain a business visa to Uzbekistan, you need your hosting organization (business partner, company, etc.) process an invitation letter through the Ministry of Foreign Affairs in Tashkent. The Ministry of Foreign Affairs will confirm and notify Uzbekistan Consulate General in New York about its decision. You can check the confirmation received by calling at (212) 754-7403 during office hours. You can also call at the same number after 6:00p.m. (ET) and leave your name, organization inviting you and your telephone number. Our representative will contact you on the next business day.
Note: Self-employed must also submit a copy of a recent bank statement.
For business letter please note the following:

Applicant must submit a Business letter of support from a U.S. based company.
This letter must be on your company letterhead.
This letter must be sign by someone other than the applicant.
Passport Information
How your expenses will be paid

Must be an original signed document.
See example below:
Example of Business Letter
Jurisdiction for New York Consulate,all others notify JIDS so we can submit in Washington Dc.
The consular district of Uzbekistan Consulate General in New York City includes the following states:
Alaska, Arizona, California, Connecticut, Hawaii, Idaho, Illinois, Indiana, Iowa, Kansas, Maine, Massachusetts, Michigan, Minnesota, Missouri, Montana, Nebraska, Nevada, New Hampshire, New Jersey, New Mexico, New York, North Dakota, Ohio, Oregon, Pennsylvania, Puerto Rico, Rhode Island, South Dakota, Utah, Vermont, Virgin Island, Washington, Wisconsin, Wyoming as well as Mexico
Consular fee and processing time: (consular fees may change)
Regular processing with consulate – $160 takes 10 business days to process.
$ 280 Per Tourist/Business Visa 5 business days MINIMUM processing time.
Applicable fee paid in U.S. Post Office Money Order, only. If you wish to include your own money order
DO NOT WRITE or STAMP any information on your money order.
JIDS can obtain this money order for you.
See our pricing sheet for fees associated with this.
Please NOTE: Embassy fees may change without notice. JIDS does not assume any responsibility for changes. The above fees DO NOT include JIDS service fees, or return mail fees.
If JIDS is paying government fees (consular or passport agency fees) on your behalf a 5.7% processing fee will be added.
 Federal Express starting at $29.95 for priority Weekday Delivery based on zip code. Special Deliveries of Federal Express VARY (Ex. SATURDAY DELIVERY OR 8AM DELIVERY, call for rates). RESIDENT home deliveries are an additional $3.00 to have signature required. Verify SIGNATURE OR NO SIGNATURE must be selected.
You can include a printed air bill to avoid additional charges. Account numbers without air bill will be charged $5.00.
Vaccinations are NOT required unless travel is from or through an infected area.
Visit the Center for Disease Control: CDC.GOV for complete health requirements.