Tourist & Business Visa Requirements
JUSTIN DOCUMENT SERVICE, INC.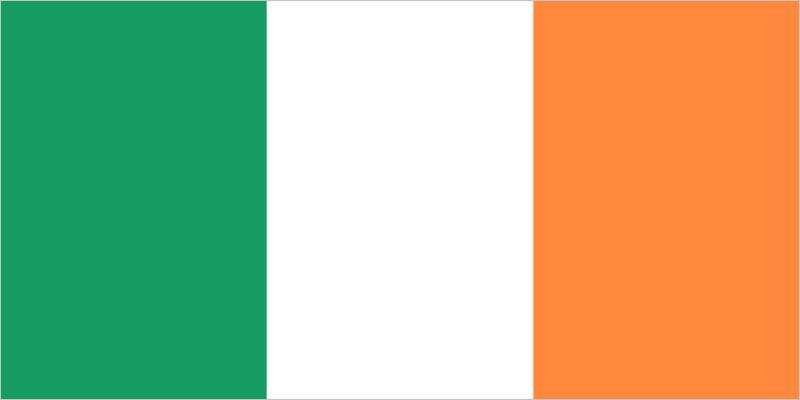 Ireland
Please note this visa requirements are for US citizens only. If you are not a US citizen please contact our office at (914) 592-2760.
US passport must be signed, valid for at least 6 months and with at least 2-3 blank visa pages not amendment pages in passport. If your passport does not meet the requirements, we can assist with obtaining new passport or passport renewal for a valid US passport.
No Visa required up to 90 day stay.
Valid, signed US passport.
Business and Tourism visas not required for up to 90 say stay.
A short stay business visa allows you to travel to Ireland for up to 90 days for business or for work that lasts 14 days or less, subject to conditions described below. All short stay visas are also called 'C' visas.
You must submit:
Your current passport
A photocopy of each page from any previous passports you have (where available)
Your current passport must be valid for at least 6 months after the date you plan to leave Ireland.
if you are not a citizen, eg a photocopy of your residence card.
You must also show you have at least 3 months' permission to remain in that country after the date you plan to leave Ireland.
Your application will be delayed if you do not provide copies of any previous passports you have.
Single or Multiple Entry Visa
A single entry visa permits you to travel to Ireland on one occasion between the dates of validity indicated on your visa.
A multi entry visa permits you to travel to Ireland on a number of occasions during the dates shown on you visa, for short trips only. It is not permitted to use this category of visa to bypass immigration rules governing residency in the State i.e. it is not possible to remain in Ireland for a period of 90 days and then seek to re-enter the country for a further period of up to 90 days. Any abuse of this may result in you being refused entry at the port of entry or future visa applications being refused. Entries must be requested on your invitation and on your letter of support.
If you are applying for a short stay 'C' visa you may apply for either a single or a multi entry visa. The policy considerations underpinning decisions on applications for multi entry visas below are explained below to assist you in deciding whether to apply for a single or multi entry visa.
If you wish to apply for a multi entry visa, you must indicate this on your application and pay the visa fee for a multi entry visa. The granting of a multi entry visa is at the discretion of the Visa Officer.
If you apply for a multiple journey visa but are granted a single journey visa the difference in the visa fee will not be refunded to you under any circumstances.
The Immigration officer at the port of entry will determine, on each occasion, whether you may enter and the duration of your permission to remain.
Print, sign and date the Application summary sheets (from AVATS) and include them with your application documents. You must send the documents listed below to your application office within 30 days of creating an application via AVATS. Your application will not be processed until everything is received.
When finished, you will be shown a web page with important summary information, including your:
Visa Application Transaction Number: Keep a note of this number. You will need it to check progress on your application or when contacting us.
Application summary sheets: Print, sign and date these sheets and send them to your application office (as below), along with your passport and other documents.
ALL DOCUMENTS will be sent to JIDS at 5 West Main Street,Elmsford, New York 10523 914-592-2760

Include 2 passport-sized color photographs of the visa applicant.
On the back of each photo:
Sign your name (in your native script and language)
Write your Visa Application Transaction Number from AVATS
You must show that you have enough finance (money) to support yourself fully in Ireland.
Tourism-Must provide BANK STATEMENTS
If going for BUSINESS PURPOSES a FORMAL BUSINESS LETTER OF FINANCIAL SUPPORT from your company here in the USA.
You must have a written invitation from a host in Ireland to apply for a short stay business visa. Your host may be a customer, a supplier or a company/organization.
Ask your host to send you an invitation letter with the information listed below. Include this letter with your application.
The host's invitation letter must include:
The reason they are inviting you to Ireland
The dates they plan you to work or meet with them
Proof of an existing relationship between the host and you, for example:

Ask your host to include copies of their communications with you about your visit (printed emails or letters)

A statement by your host about what they will contribute to the cost of your visit (if any):

The statement must indicate if your host will pay for 'all', 'some' or 'none' of the costs of your visit
If 'all' or 'some', the letter must include an estimate of everything your host will pay for, eg airline tickets, accommodation, etc (see viii. Finance plan for more)
If you have been invited by and intend to work/meet with more than one host in Ireland, you must obtain a separate letter of invitation from each.
Type or write a letter explaining why you want to come to Ireland. Sign and date the letter and submit it with your documents.
Your letter must include your full name and postal address, and the:
Reason you want to come to Ireland
Dates you plan to arrive and leave
Names and addresses of any members of your family who currently live in Ireland or any other EU/EEA country or Switzerland
Your letter must include a commitment from you that you will:
Obey the conditions of your visa in full
Not rely on public services (eg public hospitals) or become a burden on the State
Leave Ireland before your immigration permission expires
Include a letter of permission for a representative of Justin Document Service,Inc. (Call to ask which name to put in the letter)
5 West Main Street, Elmsford,New York 10523 914-592-2760
Include your name, passport number,date of birth.
Advise that you are giving permission to submit your passport for visa, as well as allowing us to pickup your passport form the Consulate when it is ready with the visa.
In your application letter, type or write a description of everywhere you will stay in Ireland (eg hotel, hostel, B&B, etc), including the dates you will stay at each place.
Include printed reservation confirmations (emails or letters) of your accommodation, from:
Hotels, guesthouses, hostels, B&Bs, AirBnBs, campsites, etc.
Shared or free accommodation, eg couchsurfing
Any other type of accommodation
Reservation confirmations must show the dates you intend to stay at each place.
Provide FLIGHT ITINERARY with your name on it and a record locator.
You must include proof that you will leave Ireland when your business trip ends.
To do so, you must show that you have a strong obligation to return home (ie to your country of residence) for economic, social or family reasons.
Visa Fees for most NON US Citizens (CALL JIDS to verify your nationality)
Standard non-refundable visa application processing fees are: Money Order fees apply /if prompted to pay online MUST ADVISE JIDS
Transit visa: $34
Single entry visa: $81
Multiple entry visa: $136
If your application for a visa is approved, you must get travel/medical insurance before you travel. You will not be allowed to enter Ireland without it.
In some cases, you may be asked to submit proof that you have travel/medical insurance before a visa is granted.
Vaccinations are NOT required unless travel is from or through an infected area.