argentina-reciprocity-fee
JUSTIN DOCUMENT SERVICE, INC.
US, Canadian and Australian citizens must pay a reciprocity fee. JIDS can assist you.
VERY IMPORTANT
"Reciprocity Fee has been suspended for American Citizens who travel to Argentina for 90 days or until the derogation of the regulation"
The National Migrations Directorate confirmed today that the suspension of the collection of reciprocity fees from US citizens, originally established by Disposition DNM No. 589/2016 as of March 24 2016 for a period of 90 days or until a Presidential Decree promoted by the said Directorate is issued for its revocation, remains in force.
The reciprocity fee still apllies to Australian and Canadian passport holders.
June 22, 2016
DIRECT PHONE NUMBER FOR CONSULAR MATTERS
+1 202 238 6460
The new rule does not alter Visa charges or Reciprocity Fees for other countries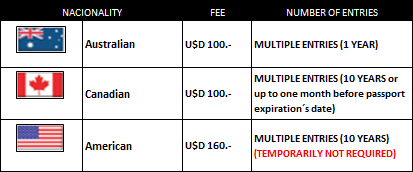 Other passport holders may be required to obtain a visa in advance, call JIDS.
THIS COULD BE TEMPORARY CALL JIDS to check before planning travel.
Your Checklist–
SCAN Documents to specialservices@justindocument.com, then call to confirm receipt of email.
Entry requirements:
As a result of a change in Argentine law, prior to arrival in Argentina at any entry point, U.S. citizen tourist and business travelers must pay a $160 reciprocity fee.
Note: JIDS recommends your passport is valid for at least six months past the last day of stay from international destination. Two blank visa pages. JIDS can help you add additional pages to your passport or renew it if you need more validity.
If your passport does not meet the requirements, we can assist with obtaining new passport, passport renewal or additional pages for a valid US passport.
By requesting information , taking information from JIDS website, or by submitting an order to JIDS you agree to all terms and conditions listed.
PRINT OR EMAIL these instructions below: