Tourist & Business Visa Requirements
JUSTIN DOCUMENT SERVICE, INC.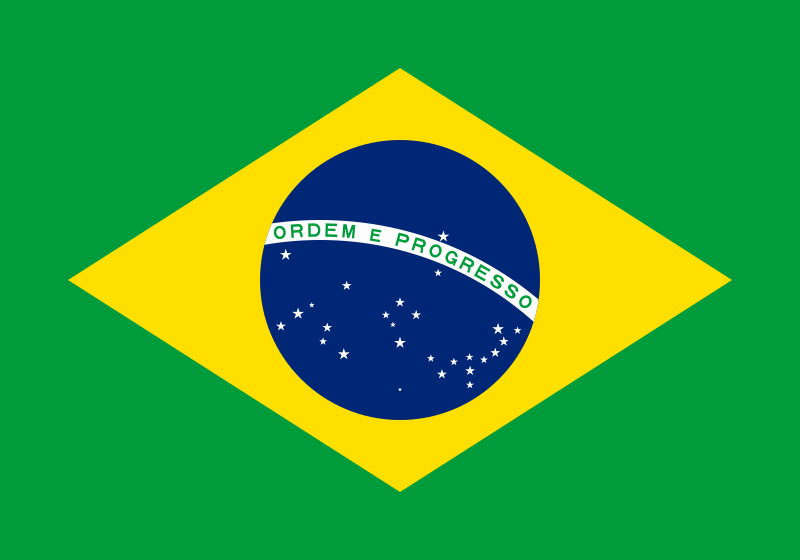 Brazil
Please note this visa requirements are for US citizens only. If you are not a US citizen please contact our office at (914) 592-2760.
US passport must be signed, valid for at least 6 months and with at least 2-3 blank visa pages not amendment pages in passport. If your passport does not meet the requirements, we can assist with obtaining new passport or passport renewal for a valid US passport.
2023 News:
VISA WILL BE REQUIRED starting
October 1, 2023, the Brazilian government will resume entry visa requirements for citizens of four countries, including the United States. The other countries are Japan, Australia, and Canada.
As of June 2021:
International travelers, be they Brazilians or foreign nationals, must present to the airline conducting the flight, before boarding with destination to Brazil:
I – Document that proves that the person was tested by a laboratory (RT-PCR), aiming to detect the infection by the COVID-19 disease, with a negative / non-reactive result, performed 72 hours prior to the boarding procedures. The Consulate General of Brazil in New York recommends that all persons traveling to Brazil by air transportation, regardless of age, take the diagnostic test of the disease and be prepared to present it to the airline and to the Brazilian migration control at the airport of arrival in the country; and
II – Traveler's Health Declaration completed (printed or in a digital version) and with consent to the sanitary measures that must be complied with during the period of stay in Brazil.
VISIT VISA EXEMPTION from now until
October

1, 2023

Since June 17th, 2019, nationals of Australia, Canada, Japan and United States are exempt of Visit Visas, for purposes of tourism, business, transit and sportive or artistic activities in Brazil. Stays in the country under these purposes are allowed for up to 90 days, extendable for the same period, provided that the visitor does not exceed 180 days of stay in the Brazilian territory every 12 months, counting from the date of the first entry. Technical or other type visas require authorization from Brazil before processing can begin.

The Consulate General of Brazil in New York informs that, currently, Chinese and Indian citizens who wish to visit Brazil under these purposes need to apply for a Visit Visa.
VISA WILL BE REQUIRED starting
January 10, 2023, the Brazilian government will resume entry visa requirements for citizens of four countries, including the United States. The other countries are Australia, and Canada. 
PLEASE NOTE THIS IS PRIMARILY FOR TOURISM AND BUSINESS MEETINGS, TECHNICAL OR OTHER REASONS FOR VISITING BRAZIL REQUIRE VISAS ALWAYS AND YOU SHOULD CALL OUR OFFICE FOR DETIALS.  VISAS TAKE APPROX. TWO WEEKS OR MORE TO ISSUE AT THE DISCRETION OF THE CONSULATE AND IS JURISDICITONAL.
TECHNICAL REQUIREMENTS CAN BE EMAILED TO YOU,call 9140592-2760
UPDATED REQUIREMENTS will be posted.  CALL IF  YOU ARE TRAVELING AND NEED A VISA FOR October 1,2023 and after travel dates.
APPLICATION Online link for Citizens that DO require a visa
(New York,CT,PA,MA)
https://formulario-mre.serpro.gov.br/sci/pages/web/pacomPasesWeb.jsf
INITIAL STEPS
The Application Form must be completed exclusively online.
Make sure you have your personal documents at hand.
Please note that some of the fields of the Application Form are mandatory.
Please note that the upload of your photo is mandatory.
After the completion of the Form, click on "Complete Application" to receive an application number.
Print and sign the PROTOCOL Print out inside the box.
Check all detais.  Make sure your FULL NAME showed up on the protocol sheet.
Even if your photo has been uploaded to the Application Form, you must provide a printed copy of it. Glue your photo in the corresponding field of the printed Receipt. Follow the ICAO standards (see instructions below).
Bring or send the printed Receipt, along with the original documentation, BRING ALL TO JUSTIN DOCUMENT SERVICE,Inc.
SCAN all to us for a PRE CHECK before sending to JIDS.
Call JIDS for appointment schedule.
CALL JIDS to let us know what jurisdiction you are,additional documents may be required for different consulates.
 

Consulate General of Brazil in Atlanta, GA

Jurisdiction: Georgia, Alabama, South Carolina, Mississippi and Tennessee.

 

Consulate General of Brazil in Boston, MA

Jurisdiction: Massachusetts, Maine, New Hampshire and Vermont.

 

Consulate General of Brazil in Chicago, IL

Jurisdiction: Illinois, Indiana, Iowa, Michigan, Minnesota, Missouri, Nebraska, North Dakota, South Dakota, and Wisconsin.

 

Consulate General of Brazil in Hartford, CT- RELEASE FORM must be notarized by a CT or RI notary …CALL JIDS to send you the form

Jurisdiction: Connecticut and Rhode Island

 

Consulate General of Brazil in Houston, TX

Jurisdiction: Arkansas, Colorado, Kansas, Louisiana, New Mexico, Oklahoma, and Texas.

 

Consulate General of Brazil in Los Angeles, CA

Jurisdiction: Arizona, Hawaii, Idaho, Montana, Nevada, Utah, Wyoming and the following counties in California: Imperial, Kern, Los Angeles, Orange, Riverside, San Bernardino, San Diego, San Luis Obispo, Santa Barbara and Ventura. Also the following American islands in the Pacific: Johnston, Midway, Wake, Howland, Jarvis and Baker, Palmira and Kingman.

 

Consulate General of Brazil in Miami, FL

Jurisdiction: Florida, Puerto Rico and US Virgin Islands.

 

Consulate General of Brazil in New York, NY

Jurisdiction: New Jersey, New York, Pennsylvania, and Bermuda Islands.

 

Consulate General of Brazil in San Francisco, CA

Jurisdiction: Alaska, Oregon, Washington and, in California, all counties not included in the jurisdiction of Los Angeles.

 

Consulate General of Brazil in Washington, DC

Jurisdiction: Delaware, District of Columbia, Kentucky, Maryland, North Carolina, Ohio, Virginia and West Virginia, as well as American bases except Guam.
Give yourself peace of mind!
Simply fill out this form STEP FORM and let JIDS do it for you $20.00.
The Smart Traveler Enrollment Program (STEP) allows U.S. citizens and nationals traveling abroad to enroll their trip with the nearest U.S. Embassy or Consulate. Help the U.S. Embassy contact you in an emergency. Read more…
Application form signed by both parents or legal guardian(s).
FORM FOR PARENTAL CONSENT different by jurisdiction.
Notarized letter of consent signed by both parents or legal guardian(s).
| | | | | |
| --- | --- | --- | --- | --- |
| New York | Atlanta | Miami,FL | Washington | Houston, TX |
| Boston, MA | Chicago, IL | San Francisco | Connecticut | Los Angeles |
Original and copy of the minor's birth certificate.
International Certificate of Vaccination for Yellow Fever is required ONLY if you've visited Bolivia, Colombia, Ecuador, Peru or other infected areas in the past 6 months.
Warning:
– Visitors who have recently visited Guinea, Liberia and Sierra Leone are subject to screening and health checks on arrival. Visit the Center for disease control CDC.GOV for complete health requirements or Consult your primary care physician. Keep in mind that the vaccine should be taken at least 10 days prior to departure.
Brazil does not require a yellow fever International Certificate of Vaccination or Prophylaxis for entering the country however yellow fever vaccination is recommended for travelers who plan to visit the following Brazilian states:
Acre
Amapá
Amazonas
Distrito Federal
Goiás
Maranhão
Mato Grosso
Mato Grosso do
Sul
Minas Gerais
Pará
Rondonia
Roraima
Tocantins
In addition to these, it is also recommended for travelers going to the west and south of Bahia, the north of Espírito Santo, the west of Paraná, the south of Piauí, the northwest of São Paulo, as well as the west of the states of Santa Catarina and Rio Grande do Sul.
Recommended: consult your primary care physician
– Vaccination against yellow fever for all passengers of 9 months of age and older visiting areas where transmission risk exists, including rural areas in: Acre, Amap, Amazonas, Distrito Federal (incl. the capital city of Brasilia), Gois, Maranho, Mato Grosso, Mato Grosso do Sul, Minas Gerais, Par, Rondnia, Roraima, Tocantins, and to other state areas where transmission risk exists including all the states of Minas Gerais and specific areas of Bahia, Paran, Piaui, Rio Grande do Sul, Santa Catarina and So Paulo states. Vaccination is also recommended for travelers visiting Iguazu Falls.
Federal Express starting at $63.00 for priority Weekday Delivery based on zip code.
Special Deliveries of Federal Express VARY (Ex. SATURDAY DELIVERY OR 8AM DELIVERY, call for rates).
RESIDENT home deliveries are an additional $3.00 to have signature required. Verify SIGNATURE OR NO SIGNATURE must be selected. You can include a printed air bill to avoid additional charges.
Account numbers without air bill will be charged $5.00.