Tourist & Business Visa Requirements
JUSTIN DOCUMENT SERVICE, INC.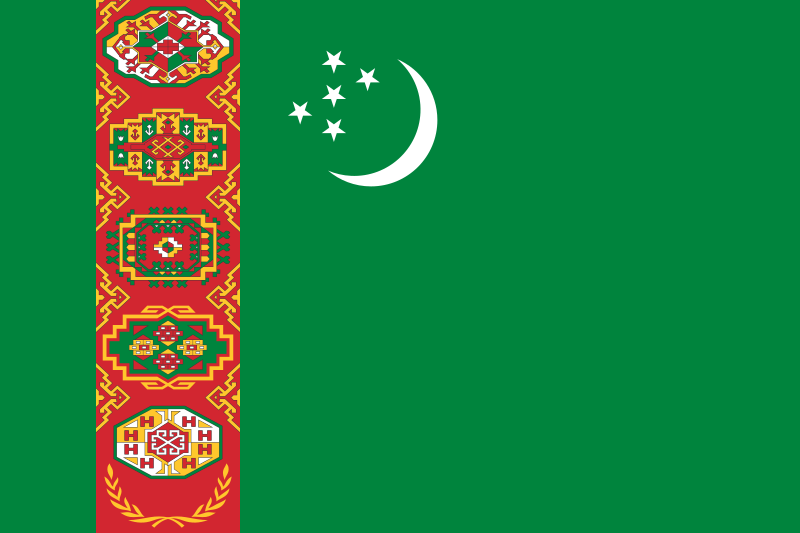 Turkmenistan
Please note this visa requirements are for US citizens only. If you are not a US citizen please contact our office at (914) 592-2760.
US passport must be signed, valid for at least 6 months and with at least 2-3 blank visa pages not amendment pages in passport. If your passport does not meet the requirements, we can assist with obtaining new passport or passport renewal for a valid US passport.
Pre-Check Documents is available. If you choose to not pre check your documents, and JIDS receives your documents with errors, you will be charged for a representative to assist you with corrections.
Concierge Service is available for this country
Passport and Visa are required.
Valid Signed Passport

Applicant must submit their current signed passport. Applicant must also include a color copy of the information page of the passport.
Copy of the 1st page of your passport

(vital statistics information with signature) and arrange it so that it fits vertically into the upper left half of a standard Letter size paper. Keep in mind that the Embassy needs both the copy and the original in order to process them properly.

One Visa Application Form completed and signed.
Please glue the picture rather than stapling it. As indicated, the dates should all be written in the order of day-month-year.
Business letter of responsibility form U.S. company
For business letter please note the following:

Applicant must submit a Business letter of support from a U.S. based company.
This letter must be on your company letterhead.
This letter must be sign by someone other than the applicant.
How your expenses will be paid

Must be an original signed document.
See example below:
Example of Business Letter
Invitation from person to be visited certified by the Ministry of Foreign Affairs.
A letter of invitation from the person or company that you are visiting is also required. It's very important to note that the letter has to be certified by the State Foreign Citizens Registration Service of Turkmenistan, and it will only be valid for 3 months from the date of certification. If you are only a tourist and will not be visiting anyone in particular, then you need to contact a tourist agency and obtain permission from them.
Applicant must submit (1) color, passport style 2 x 2 photograph.
The photos must be recent within 6 months, and generally not the same photo as in the passport.
Must have at least 1 blank visa page.
See digital image requirements: Passport Photo Requirements.
Appropriate proof of identity (such as a personal ID or a driver's license),
Must submit a computer-generated itinerary from a travel agency or online travel site. E-confirmation from an airline or travel company showing departure from the U.S. and arrival/departure to and from your visa destination. Acceptable with a valid record locator.
Justin Document Service – ORDER FORM & copies Mandatory order form, which must be included with your original documents to JIDS.
ORDER FORM then PRINT to include with documents.
COPIES of all documents included in your package to JIDS. If copies are not included then a $10.00 copy fee will be applied.
VALIDITY
SINGLE
ENTRY
MULTIPLE
ENTRY
EXPEDITED
SINGLE
ENTRY
EXPEDITED
MULTIPLE
ENTRY
Up to 10 days
35
75
55
135
Up to 20 days
45
75
75
135
Up to 1 month
55
75
95
135
Up to 2 months
85
115
155
215
Up to 3 months
115
155
215
295
Up to 4 months
145
195
275
375
Up to 5 months
175
235
335
455
Up to 6 months
205
275
395
535
Up to 7 months
235
315
455
615
Up to 8 months
265
355
515
695
Up to 9 months
295
395
575
775
Up to 10 months
325
435
635
855
Up to 11 months
355
475
695
935
Up to 12 months
385
515
755
1015
Applicable fee paid in U.S. Post Office Money Order, only. If you wish to include your own money order
DO NOT WRITE or STAMP any information on your money order.
JIDS can obtain this money order for you.
See our pricing sheet for fees associated with this.
Please NOTE: Embassy fees may change without notice. JIDS does not assume any responsibility for changes. The above fees DO NOT include JIDS service fees, or return mail fees.
If JIDS is paying government fees (consular or passport agency fees) on your behalf a 5.7% processing fee will be added.
 Federal Express starting at $29.95 for priority Weekday Delivery based on zip code. Special Deliveries of Federal Express VARY (Ex. SATURDAY DELIVERY OR 8AM DELIVERY, call for rates). RESIDENT home deliveries are an additional $3.00 to have signature required. Verify SIGNATURE OR NO SIGNATURE must be selected.
You can include a printed air bill to avoid additional charges. Account numbers without air bill will be charged $5.00.
Vaccinations are NOT required unless travel is from or through an infected area.
Visit the Center for Disease Control: CDC.GOV for complete health requirements.