JUSTIN DOCUMENT SERVICE, INC.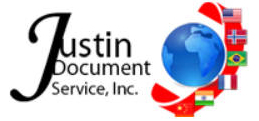 Justin Document Service Inc.(JIDS) is a privately owned company. We are not associated with any U.S. or foreign government offices. JIDS dos not assume any responsibility or liability for any individuals or organizations obtaining information from us and not submitting an order with us. JIDS does not assume any liability for any Consulates, Embassies or government agencies. Visas do not guarantee entry into another country. Entrance is always at the discretion of an immigration officer at the port of arrival. All fees submitted on your behalf from JIDS are non-refundable and JIDS is not liable or responsible regardless of denial, loss, delay of documentation, cancellation or missed travel arrangements of the trip. Electronic Visas paid on your behalf are also non-refundable. If denial of such visa occurs, or the government agency requires additional information it is your responsibility to meet the requests given. If an existing visa is found, you will still be responsible for the fees. JIDS does not assume any responsibility for Electronic visa payments. You must carry the confirmation with your valid passport, and follow all the rules of the visa. JIDS is not liable if entrance is denied.
Payment of Consular or Passport Agency fees on your behalf are subject to change and will be your responsibility. Service fees from JIDS will be determined by JIDS when the work arrives in our office, and it is calculated based upon your time of travel and needs. All Consulates and government agencies vary with minimum processing times, JIDS service fees vary on a case by case basis and will determined by JIDS to meet your travel needs how we see fit. If you have specific needs, they must be communicated to JIDS in writing or through email, with a response from us to verify the possibility of meeting your request. JIDS is not liable or responsible for any purchased airline tickets if your request is denied for any reason.
JIDS does not assume any liability or responsibility for loss, damage or delay of your travel documents using OVERNIGHT CARRIERS such as Federal Express, UPS, or local delivery services. If you do not include your own prepaid return label, you will be charged accordingly with the carrier of JIDS's choice to return your documents.
JIDS does not recommend obtaining visas upon arrival. If you choose to do so, it is your own responsibility to know the rules of that country. JIDS always recommends your passport be valid for at least 6 months from the last day of stay in any country. We do not assume any liability for detainment from immigration officers if your passport does not meet the requirements to enter. It is your responsibility to check all documents upon receipt from JIDS, visa validity, vital statistics information or any discrepancies should be reported immediately.
JIDS will make every effort to provide you with accurate information, however, it is subject to change.
EXAMPLE OF REASONS YOUR PASSPORT COULD BE DENIED:
Tax Evasion
Child Support or Alimony ARREARS
Criminal Activity
These are a few reasons the US DEPARTMENT OF STATE COULD DENY YOU A NEW PASSPORT. If this occurs JIDS is not responsible for further dealings with the PASSPORT AGENCY once they send you a LETTER DENYING YOUR REQUEST OR PLACING YOU UNDER SUSPENSION. JIDS will do as much as possible to assist you, however the above reasons are between the applicant and the Department of State. No refunds will be issued from JIDS on our service fees. The Passport Agency has the right to hold your money in suspension for up to 90 days, and they will determine this in the personal letter to you, this letter is normally mailed in the regular mail and JIDS is not able to interfere once this letter is mailed. The letter will advise you exactly what the next step should be. If this issue is resolved and JIDS can assist
The issuance of a US PASSPORT IS AT THE SOLE DISCRETION OF THE US DEPARTMENT OF STATE.
Dated : 14 October 2022