Adding Additional Pages- Instructions
JUSTIN DOCUMENT SERVICE, INC.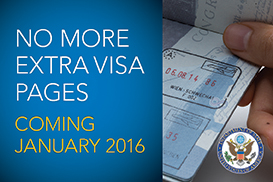 Important note: Extra Visa Pages no Longer Issued Effective January 1, 2016
VISA PAGES
The U.S. Department of State will no longer add visa pages into U.S. passports beginning January 1, 2016. Previously, U.S. passport holders had the option to pay for the insertion of additional 24-page visa inserts when valid passports lacked adequate space for entry or exit visa stamps. The decision to discontinue this service was made to enhance the security of the passport and to abide by international passport standards.
Applicants within the United States may choose a 28-page or 52-page book.
Passports needing additional pages must follow instructions to renew the passport. Check with each country to see about renewing any visas in your passport.