Tourist & Business Visa Requirements
JUSTIN DOCUMENT SERVICE, INC.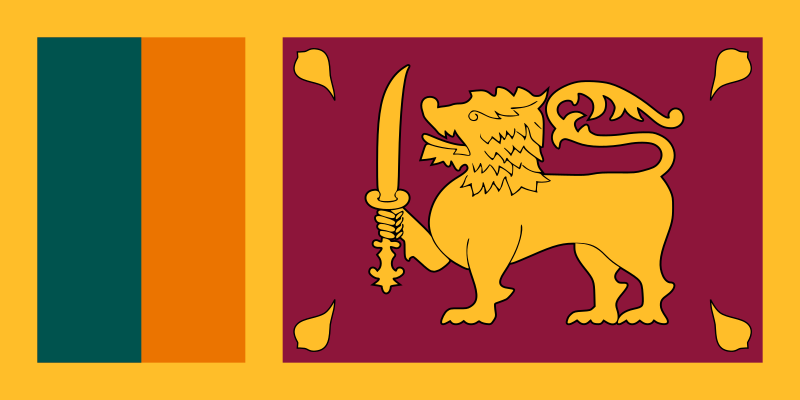 Sri Lanka
Please note this visa requirements are for US citizens only. If you are not a US citizen please contact our office at (914) 592-2760.
US passport must be signed, valid for at least 6 months and with at least 2-3 blank visa pages not amendment pages in passport. If your passport does not meet the requirements, we can assist with obtaining new passport or passport renewal for a valid US passport.
Pre-Check Documents is available. If you choose to not pre check your documents, and JIDS receives your documents with errors, you will be charged for a representative to assist you with corrections.
Concierge Service is available for this country
Passport and Visa are required.

We recommend using JIDS to do your ETA.  There are MANY Fraudulent Sri Lanka Online websites that the consulate does not support.
Tourist -ETA

Tourism for a 30 day stay or less you must have an ETA before departure to obtain visa upon arrival. Electronic travel Authority, please contact JIDS for your ETA
Visitors must hold proof of sufficient funds to cover their stay and documents required for their next destination.
Warning: Nationals of USA not holding return/onward tickets could be refused entry.
A Visit Visa is an entry permit signifying the consent of the Sri Lankan Government for the admission of a foreign national to the country. The Visa contains details of the period of time and the condition/s of the stay.
A Tourist Visa is issued to tourists who want to enter Sri Lanka for sightseeing, excursions, relaxation, visit relatives or yoga training for a short period of time.
JIDS can issue a traditional visa in the passport, or do an ETA for business as well.  CALL JIDS to decide which visa is right for you.
Engaging following circumstances are required to obtain Business Visa:
Business meetings & negotiations

Conferences, workshops & seminars

Short-term training programs

Religious events

Art, music and dance events

Symposiums
Business form APPLICATION 
Application for MULTIPLE ENTRY REQUEST
A Business Purpose Visa is issued to foreign nationals who visit Sri Lanka for business purposes  for short period of time. This visa may be issued for single or double journeys.
Actual valid, signed US passport.
Please note that you will need Adobe Acrobat Reader version 3 or higher to view the form.
Electronic Visa is now issued, to apply with JIDS Submit the following:

Copy of Passport Vital Statistics page
Port of Entry
If business travel include: all business company information of your US company, full address,phone # in business letter
and also host invitation from host in Sri Lanka
2 Passport Photos
$40.00 Fee (some passports are exempt)
Flight Itinerary
JIDS Passport & Visa Order Form with CVV # of credit card on order form.
SCANNED TO JIDS if doing an ELECTRONIC VISA, or overnight mailed to JIDS if doing a visa stamped in your passport.
Justin Document Service – ORDER FORM & copies Mandatory order form, which must be included with your original documents to JIDS.
ORDER FORM then PRINT to include with documents.
COPIES of all documents included in your package to JIDS. If copies are not included then a $10.00 copy fee will be applied.
Give yourself peace of mind!
Simply fill out this form STEP FORM and let JIDS do it for you $20.00.
The Smart Traveler Enrollment Program (STEP) allows U.S. citizens and nationals traveling abroad to enroll their trip with the nearest U.S. Embassy or Consulate. Help the U.S. Embassy contact you in an emergency. Read more…
$ 40.00 Per Tourist/Business single entry 30 days

Business Visa

4-5  business days MINIMUM processing time from day of submission to consulate.
Multiple entry Reciprocal Visa Scheme for U.S. Nationals (05 years)
On the basis of reciprocity between the U.S.A. and Sri Lanka, the U.S. Nationals are granted visa to Sri Lanka for maximum of 05 years with multiple entries on business purposes.
Documents required
Multiple Entry Visa application

Valid passport (The validity of the passport must be at least six months beyond the date of entry into Sri Lanka)

Two photographs

Letter of invitation from the host company in Sri Lanka requesting 5 year multiple. A copy of the letter should be directly sent to the Consular Division of this Mission. (Photographs are not acceptable)

Letter from the Organization in the United States
Multiple Fee
Reciprocal visa fee                      –           USD 140.00
NON US CITIZENS please call JIDS 914-592-2760 to verify requirements and fees.
 Federal Express starting at $39.95 for priority Weekday Delivery based on zip code. Special Deliveries of Federal Express VARY (Ex. SATURDAY DELIVERY OR 8AM DELIVERY, call for rates). RESIDENT home deliveries are an additional $3.00 to have signature required. Verify SIGNATURE OR NO SIGNATURE must be selected.
You can include a printed air bill to avoid additional charges. Account numbers without air bill will be charged $5.00.
Vaccinations are NOT required unless travel is from or through an infected area.
The following countries are included that certificate is mandatory, without it 10 day quarantine. Brazil, Burkina-Faso, Burundi, Cameroon, Central African Rep, Chad, Colombia, Congo, Côte d'Ivoire, Ecuador, Equatorial Guinea, Ethiopia, French Guiana, Gabon, Gambia, Ghana, Guinea-Bissau, Guinea, Ghana, Kenya, Liberia, Mali, Mauritania, Niger, Nigeria, Panama, Peru, Rwanda, Sierra Leone, Senegal, Sudan, Suriname, Togo, Trinadad & Tobago, Uganda, Venezuela.
Visit the Center for Disease Control: CDC.GOV for complete health requirements.